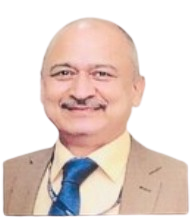 Shri Pradeep Singh Kharola, IAS (Retd.)

ITPO is firmly committed to showcase excellence of ';Make in India' campaign globally. Containing all updated information on ITPO's events in India and overseas, website of the organisation is a sincere effort to further enhance transparency in its activities and create a sync. with 'Digital India' campaign, launched by the Hon'ble Prime Minister of India in direction of e-governance.
India brand' as well as further extend
The website highlights not only the corporate objectives, but also a wide–ranging services and initiatives of the organisation to promote, facilitate, encourage and coordinate various activities and programmes to enhance India's share of export through trade in goods and services.
Apart from a dedicated website, event specific micro sites and Virtual Trade Fair Portal, the organisation has geared up to promote its events and participants through social media.
The website provides convenient, efficient and one- stop e-enabling solutions to all the stakeholders who are eager to promote their business through ITPO's trade promotion events in Africa, European Union countries, Latin America, CIS and ASEAN region.
I am confident, the website will be immensely useful to all service agencies especially when ITPO is pursuing plan for redevelopment of Pragati Maidan as an Integrated Exhibition cum Convention Centre without affecting its exhibition schedule.
Seeking your valuable suggestions and continued support, I extend my warm greetings and best wishes to all cyber-savvy associates, participants, service providers and visitors.
(Pradeep Singh Kharola)
Chairman and Managing Director
India Trade Promotion Organisation