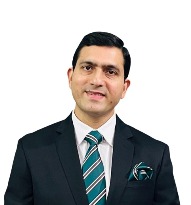 CA Rajat Agarwal, IAS

On behalf of the Team ITPO, I convey my best wishes to all the users of ITPO's website which has been launched with a new format and content. It has been designed keeping in mind requirements of the business community and service agencies who want to navigate with proper Search Engine Optimisation (SEO) and functionality.
The website offers an insight into ITPO's trade promotion activities which are organised in India and abroad in accordance with the Foreign Trade Policy of the Department of Commerce, Government of India. It is user-friendly and significant especially when ITPO is becoming e-enabling enterprise for better transparency and accountability.
I hope the users of the ITPO's website find the new version user friendly and useful. Any suggestions for further improvements are always welcome.
CA Rajat Agarwal
Executive Director
India Trade Promotion Organisation